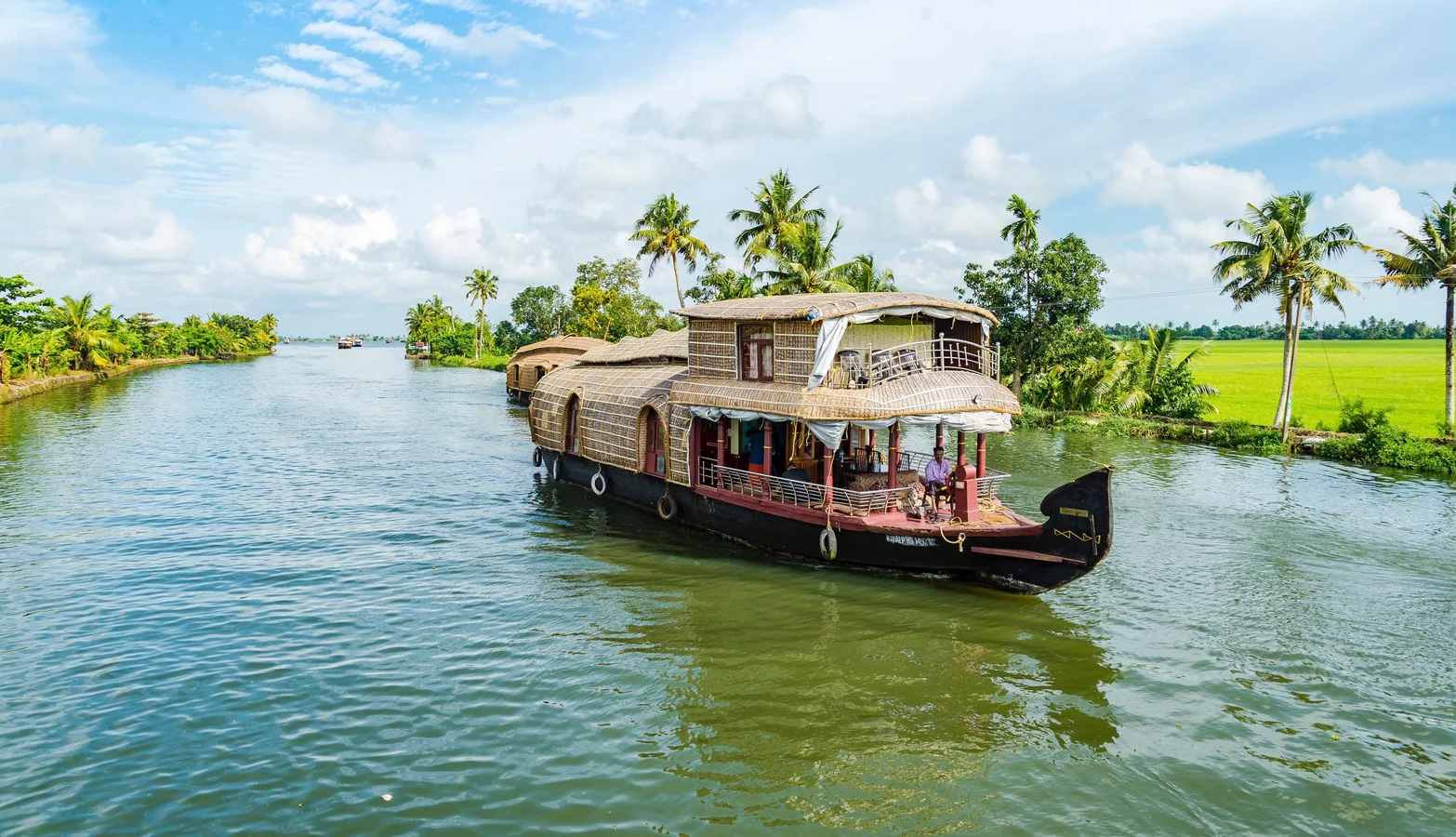 Which is the best time for houseboating in Alleppey
Houseboat journeys are always stress-busters. Alleppey, located in Kerala, is widely known for houseboat voyages through the serene backwaters. Houseboating in Alleppey is the most precious gift you can give yourselves if you are tired of your boring daily routine. Travelling inside a houseboat with your family or friends and experiencing the beauty of nature can give you all the peace on earth. There is no such precise time for scheduling your Alleppey houseboat trip. But it would help if you considered the weather at that time. Otherwise, it went like a total disaster.
The best time for houseboating in Alleppey completely depends on the climatic conditions. By analysing the geography of Alleppey, we can understand that thirteen percent of the district is covered by water, while the Kuttanad region is below sea level. There is a high chance that extreme rainy days will ruin your entire travel plans.
Understanding Alleppey's Climate
Alleppey has a tropical monsoon climate with distinct wet and dry seasons. Heavy rainfall brought about by the southwest monsoon between June and September turns Alleppey into a verdant paradise perfect for nature lovers. It gets drier and colder from October to February, which is the busiest travel season when people come to take advantage of the nice weather. Warmer temperatures herald the arrival of summer, which runs from March to May. This is also the best time for houseboating in Alleppey and to see other coastal attractions.
Tourists and visitors should be aware of Alleppey's climate since it has a direct impact on the nature and enjoyment of their journey. Knowing how the weather varies with the seasons enables visitors to tailor their trip to their interests and tastes. Travellers may plan outdoor activities, prepare wisely, and make the most of their time in Alleppey by being aware of the temperature patterns. Houseboating in Alleppey will give you an unforgettable experience if you get there at the right time.
The Best Seasons for Houseboating in Alleppey
Alleppey has three distinct seasons, each of which has a special charm for houseboat excursions.
Alleppey's winter season, which runs from October to February, is the best time for houseboating in Alleppey. This is the busiest travel time of year because of the beautiful chilly, dry weather. This is the best time for visitors to fully immerse themselves in Alleppey's serene beauty, taking in the breathtaking scenery, and relishing the cultural activities that the area has to offer because of the lower humidity and pleasant weather.
Alleppey's monsoon season, which usually lasts from June to September, is marked by strong and frequent rains that turns the area into a green paradise. The backwaters burst into brilliant greenery during this time, rejuvenating the entire area. Due to the unpredictability in climate, houseboat excursions in Alleppey can be a little difficult, but they also provide a distinctive and captivating experience of houseboating in Alleppey.
Though it may not be the most popular period for houseboat excursions, The summer season in Alleppey lasts from March to May, offers its own special appeal. This season offers a different perspective on life in the area because it is less busy, allowing you to fully immerse yourself in the local way of life and engage with the villages along the backwaters
Special Events and Festivals to explore houseboating
Taking a houseboat cruise in Alleppey's backwaters is a great way to experience the area during some of its colourful festivities. The Nehru Trophy Boat Race, which takes place in August is one among them. Kerala's biggest celebration, Onam, usually takes place in August or September. It features boat races, traditional dances, and the renowned Onam Sadhya feast. Houseboating in Alleppey during this time will add evergreen memories to your trip.
Benefits of Choosing the Best Time for Your houseboat trip
The best time for houseboating in Alleppey is very much dependent on the weather conditions. To get the most out of your houseboat excursion in Alleppey, you must choose the ideal time. The best weather occurs in the winter, which lasts from October to February. But it is okay to explore houseboating in Alleppey in other seasons, which will give you an entirely different experience.
Alleppey is a tourist's paradise, and it has a unique beauty during all seasons. But it's good to explore one-day trips in Alleppey backwaters in pleasant weather and during the festive season so that you will get new memories and experiences. Regardless of which season you are in, it's the memories you make that matter at the end of the day.