Houseboat Classification
Sailing in Paradise: Kerala Houseboat Classifications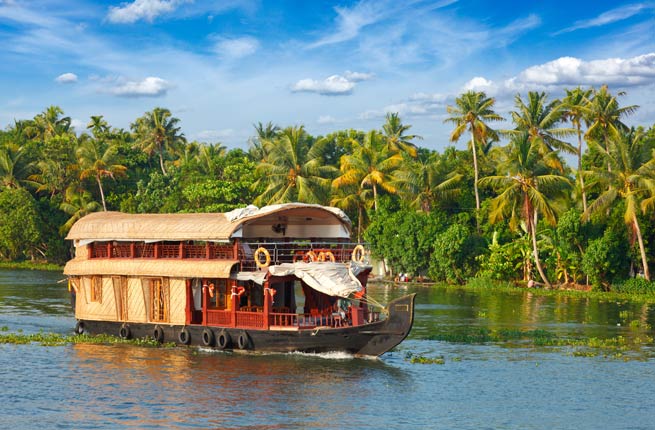 Classification Scheme for Kerala Houseboats
The very thought of Kerala will bring a picture of line of coconut trees in the backdrop with pristine backwaters in foreground and a beautiful houseboat in it. People from across the world come down to God's Own Country to have a taste of the laidback features of the state that helps to relax and rejuvenate.
Most of the travellers come to Kerala with a wish to stay in this dreamy setting of Kerala backwaters and houseboats. Owing to which there has been steep rise in demands of houseboats and it was necessary to have some stringent rules and regulations in place pertaining to standards of service and safety measures. Thereby the Kerala Government took an initiative to classify the houseboats in accordance to the set standards that will aid in supporting tourism industry in Kerala.
Important conditions for obtaining sanction of Kerala Houseboats
Bedrooms of 80 sq. ft (less than 8ft of width)
Living/dining area of 80 sq. ft
Kitchen should not exceed 20 sq. ft
Attached toilet should be below 21 sq. ft (less than 4ft wide)
Common toilet of minimum 10 sq. ft
Passages should be less than 4 ft wide
There should be attached toilets for bedrooms. While the guests' toilets should be built in western style and well-maintained, the staff should be provided with separate common toilet.
Fire safety measures should be implemented in the kitchen..
Use of fire-proof materials within all the houseboats should be mandatory.
There should be minimum 2 fire extinguishers on hand in houseboats.
The kitchen to should maintain excellent hygiene level in terms of storage facilities while all the food items should be well-packed and stored in clean and neat space.
There should be no fuel storage near kitchen.
Every houseboat in Kerala should be equipped with at least two fire buckets and two lifebuoys.
The houseboats in Alleppey should have excellent quality of furniture, toiletries andlinen, glassware and crockery.
It is mandatory for all the houseboats to regularly maintain and update their tourist records and log books.
Every houseboat owner should obtain a valid license from the concerned authority to operate on the backwaters of Kerala. On either sides of houseboat the Name of the owner, KIV (Kerala Inland Vessel) number as well as approval number should be painted.
Other Conditions to get approval of Houseboats in Kerala
Alternative solutions for clearing solid waste, sewageand sophisticated chemical toilets and septic tanks
The houseboats should be operated via battery
The houseboat should be provided with round the clock electricity for fans and lights.
The houseboat should have 24-hour facility for providing cold and hot running water.
The houseboat should have provision for water purifying facility on board.
On board, there should be equipped with a fridge or ice-box.
The guests on houseboats should be provided with a menu as per their choice.
All the Department of Tourism approved houseboats should carry a flag that has the details of the permit inscribed on it. The Department of Tourism will be approving this type of flag. Those houseboats which meet the important conditions and follow eco-friendly measures as per the Department of Tourism guidelines will be endowed with Green Palm Certificate.
Those employees who handle the guests on the houseboats should have good experience and proficient enough to communicate in English.
In terms of heating, lighting and other purposes there should be alternative source of fuel supply such as solar power.
Provision of certain system in order to separate non-recyclable from recyclable waste. Thus streamlining the discharge of non-biodegradable waste in order to prevent harm on the eco-system.
To avoid polythene bags and instead make maximum use cloth bags, paper bags and other means of eco-friendly materials.
Use recycled paper for stationery purpose and allied publicity resources.
The houseboat and its furniture should be built using ethnic materials that is available locally.
The houseboat should employ minimum 80% of the staff hired from the regional districts in which the houseboat is operated.