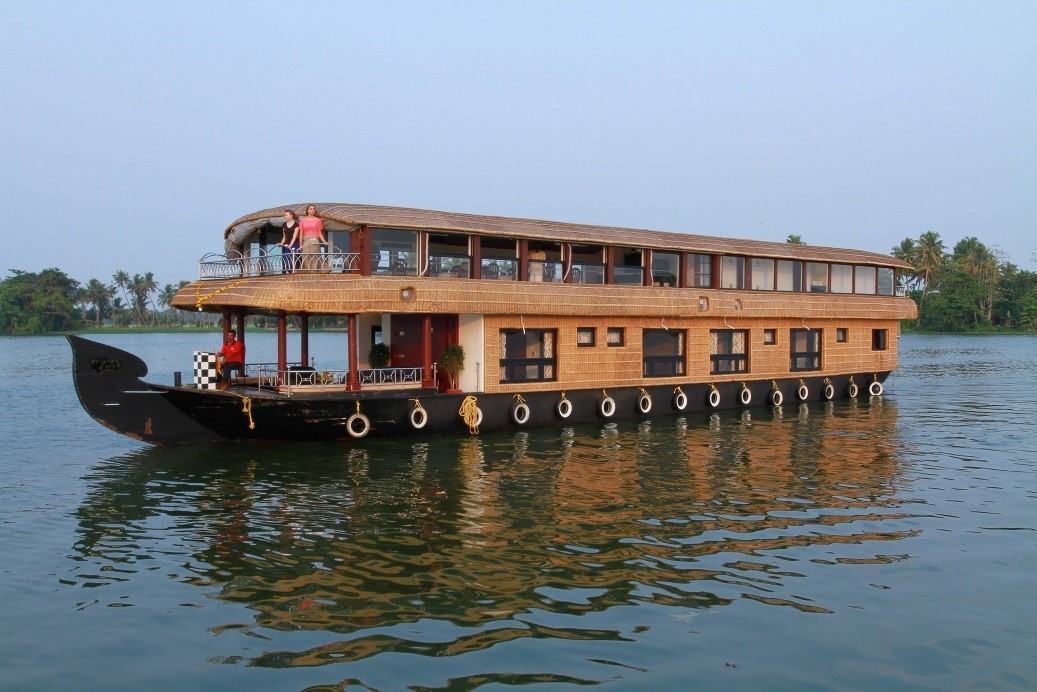 A Day in Paradise: Exploring the Beautiful Alleppey Backwaters on a Houseboat
Life is a bit tiring these days, right? Many of us are losing our work-life balance or our old vibes due to busy schedules. Sometimes all we need is quality time with our loved ones, far from our boring daily routine. Imagine you and your close circle of family or friends going on a houseboat through the calm backwaters of Alleppey, singing your old favourite songs, and tasting the famous Sea food! If it feels like heaven to you, then don't wait; a houseboat in Alleppey is waiting on the backwaters for your arrival.
Alleppey, situated in the Kerala district, is popularly known by its beautiful backwaters and lowlands. 13 percent of the district constitute Water bodies and are widely known as the Venice of the East. If you are spending your leisure time in Kerala, an Alleppey houseboat one day trip is a must-experience. The lifestyle of Alleppey is also very dependent on the water bodies. Through travelling on any of the best houseboats in Alleppey, you can deeply understand how a locality is living a life completely dependent on backwaters for daily transportation and living.
Houseboats: Your Floating heaven
You may be familiar with Alleppey's serene beauty through trending reels or shorts on Instagram. But you have to experience a houseboat journey once in a lifetime to fully understand the hidden beauty of the backwaters. Houseboats are sometimes called floating heavens. Houseboats are a kind of artistic expression, beautifully carved out with elegance and tradition. Alleppey's vast backwaters scale up the pride of houseboats to an extra level. A houseboat in Alleppey has been the signature of Kerala tourism for years.
Houseboats are luxury boats with bedrooms, kitchens, bathrooms, and anything a house can carry. Simply call it your floating home. There is a chef in almost every boat to prepare delicious food, especially fish items, or you can cook by yourselves. Sleeping on a comfy bed in the middle of the water and waking up to the reflection of the rising sun in the backwaters will be a golden memory you can cherish for years. You can get into the houseboat universe whenever you want, but the best time to visit Alleppey in a houseboat depends on the seasons and weather. Houseboats have nice furniture and spacious rooms, which make them a better choice for family gatherings and friend reunions.
What to Expect in houseboat
There are numerous houseboats in Alleppey. From traditional to luxurious and elegant, houseboats came in different designs. Houseboat travel is an unforgettable and one-of-a-kind experience that provides a distinctive opportunity to discover and take in the beauty of water bodies. Exploring the tranquil backwaters is the prime objective of a houseboat journey.
Through an Alleppey Houseboat one day trip, you can taste the rich Kerala cuisine, starting from pearl spot fish fry to Kerala's authentic toddy. Over anything, the peace and calmness you can experience on your houseboat journey are out of this world.
Houseboat Comfort: Your Home on the Water
An Alleppey houseboat's atmosphere is the ideal fusion of custom, scenic beauty, and cultural immersion. An ideal environment for rest and renewal is created by the boat's gentle sway, the calming sounds of the water, and the peaceful surroundings. Houseboat in Alleppey is a pure reflection of floating living spaces on backwaters.
The Houseboat Crew's Role in the Backwaters
A wonderful and flawless experience for tourists exploring backwaters on a houseboat in Alleppey is greatly dependent on the houseboat crew. Their knowledge and commitment are the foundation of the voyage, and they consist of a captain, a cook, and frequently other experienced workers. They will ensure that the travellers get the best experience throughout the journey.
Savouring Delicious Local Food
Enjoying delectable Kerala cuisine while cruising on a houseboat in Alleppey transports guests to this beautiful coastal region through an exquisite experience. The dishes are a celebration of the state's culinary traditions, featuring everything from coconut-based gravies to aromatic spices. The allure of a Kerala houseboat excursion is best expressed by the mouthwatering fusion of traditional flavours and stunning scenery.
A houseboat cruise around Alleppey's backwaters is an enchanting trip that blends the peaceful beauty of the natural world, diverse cultural activities, and peaceful downtime. The harmony of village life and the scent of Kerala's food cling to your memory like a soft breeze in your brain. Houseboats in Alleppey are a real wonder that you should experience once in a lifetime.