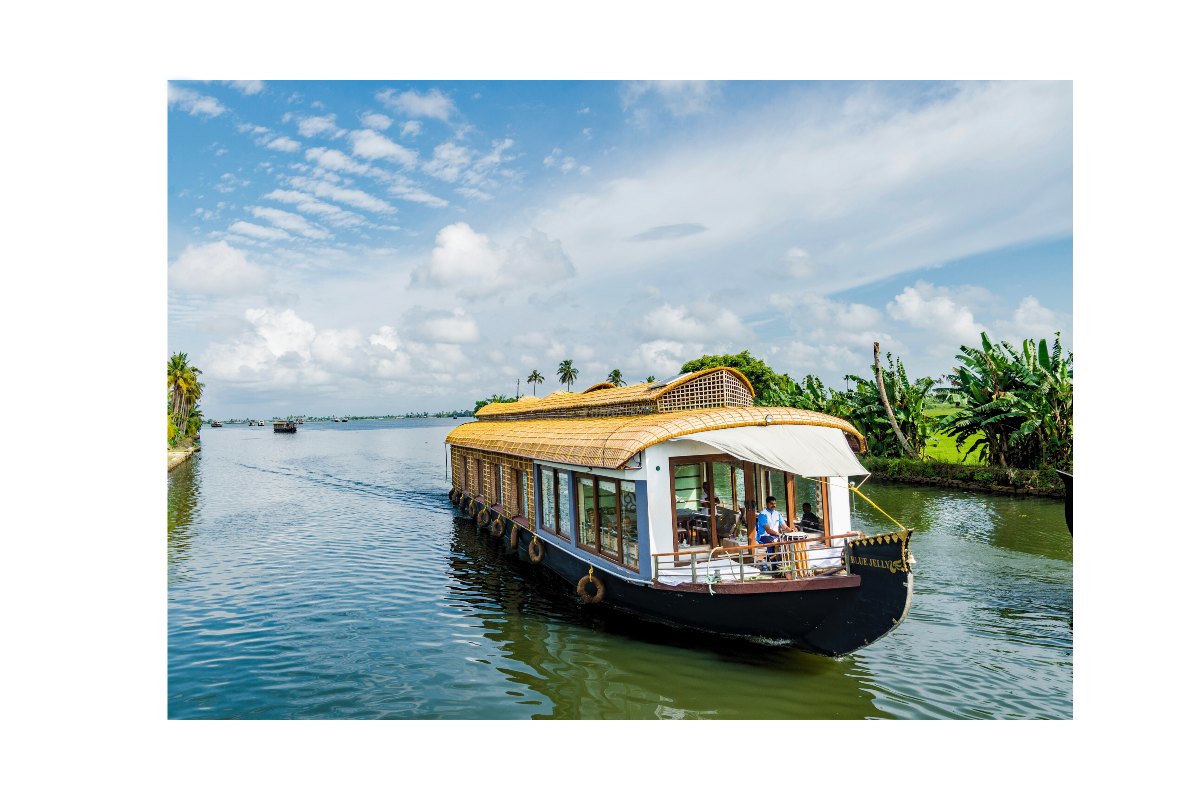 How to Choose the Best 2 Bedroom Luxury Houseboat in Alleppey
What is the first picture that appears in your mind when you hear something related to Alleppey? For many of us, a frame full of houseboats moving peacefully in the background of vast lagoons defines the whole Alleppey. A boat journey to the water bodies in Alleppey is heavenly, but choosing 2 bedroom luxury houseboat in Alleppey for your perfect journey is hard.
Choosing the Perfect 2-Bedroom Luxury Houseboat
When choosing an ideal houseboat for a perfect day out, you have to set your preferences. To choose 2 bedroom Luxury houseboat in Alleppey that fits comfortably, first decide on your budgetary constraints and the size of your group. Next, choose your desired level of luxury, since houseboats come in a variety of styles and designs.
Your choice of houseboat should complement your objectives, whether you're organising an adventure with friends, a family holiday, or a romantic retreat. Choose a smaller, cosier houseboat with solitude for a romantic getaway. Having a large boat with kid-friendly amenities is a must when travelling as a family.
Budget Considerations for Your Houseboat
Setting a clear budget based on your financial capabilities is the first step towards enjoying a luxurious experience in a Deluxe Houseboat with 2 Bedroom in Alleppey. Set your priorities, such as a fine dining experience, room accommodations, or picturesque travels, and make sure that your budget can support them.
Think about the amenities that are important to you
First, you have to make a list of amenities that are important to you before you start worrying about choosing 2 bedroom luxury houseboat in Alleppey. Houseboats typically offer spacious air-conditioned bedrooms with comfortable bedding and attached bathrooms, providing a private and cosy experience for couples or small groups. The common living area is often elegantly furnished, with panoramic windows to enjoy the scenic beauty of the backwaters.
You can choose the features you want on a houseboat and pre-book according to them, rather than simply selecting a boat with unwanted facilities. Then you will get to spend a lovely time on a luxury houseboat in Alleppey.
Draft Your Perfect journey
Selecting a houseboat schedule and route that suit your interests and travel time is essential when arranging a trip to Allеppеy. Determine your interests first before choosing 2 Bedroom Luxury Houseboat in Alleppey whether they be peaceful backwaters, rural life, or birding. Next, decide how long you want to spend there – whether it's a day cruise or an overnight stay. By doing it in this manner, you can make sure that your houseboat excursion is customised to your preferences and fits into the length of your visit, guaranteeing a wonderful time in Alleppey.
Evaluate Houseboat Crew and Service Excellence
You can't experience a Houseboat journey in Alleppey without having supportive houseboat crews. A great houseboat vacation in Alleppey is reliant on having a crew that is both professional and attentive. They are vital for guaranteeing passengers' comfort, safety, and enjoyment overall. In addition to making the ride easier, their experience with the backwaters and proficiency with navigation enables them to point out noteworthy locations and provide cultural insights on your journey on a Luxury houseboat Alleppey.
Ensure Privacy on Your Houseboat
The Best Luxury Houseboat in Alleppey always provides you with complete privacy. Comfort and privacy are necessary for a pleasant houseboat trip. Selecting a houseboat with separate bedrooms and adjoining bathrooms can help you make sure these requirements are satisfied. Verify whether the yacht has blinds or curtains to provide seclusion without stealing the gorgeous scenery. Privacy should be your primary concern before starting searching for h choosing a 2 bedroom luxury houseboat.
Be Aware about Safety Matters
It is crucial to discuss safety concerns before reserving a Houseboat in Alleppey. First, make sure the houseboat has first aid supplies, fire extinguishers, and life jackets. Inquire about the operator's safety procedures and make sure they follow all applicable laws. Prioritising insurance and safety is essential if you want to have a worry-free houseboat vacation in Alleppey.
Read reviews of different houseboats
A great way for choosing 2 Bedroom luxury Houseboat in Alleppey is by reading honest reviews available on the internet. Such reviews offer insightful information about previous tourists' experiences, which may be used to evaluate the houseboats' quality and degree of service. Making a smart choice with the help of this information can help guarantee that your houseboat trip lives up to your expectations and is a fun and memorable experience.
Book your houseboat in advance
When organizing a trip to Alleppey, reserving a houseboat in advance has various advantages. The best time to visit Alleppey may vary according to the weather and climate, but pre-booking a Best luxury Houseboat in Alleppey guarantees the boat and dbest time to visit Alleppey ate of your choice, which is especially important during high tourist seasons when space is scarce. Also, it frequently has better prices and promotions to make sure that you get an affordable 2 Bedroom Deluxe houseboat in Alleppey.
Ask about any special offers they provide
Before making a reservation for a houseboat in Alleppey, it can be very beneficial to inquire about any special discounts for 2-bedroom houseboats. It enables you to maybe negotiate for savings or additional benefits, which will lower the cost of your trip on any of the Best 2 Bedroom luxury Houseboat in Alleppey.
A thorough analysis of the amenities, expenses, and crew services is necessary when choosing  2 Bedroom deluxe Houseboat in Alleppey. Comfort, privacy, and safety precautions should be given priority. To improve the whole experience, check out reviews, make reservations in advance, and look for special offers. These actions will guarantee that your trip through Alleppey's tranquil backwaters is memorable and pleasurable.