How to choose the perfect houseboat for your Alleppey adventure
A trip to Kerala is complete with downtime on the unique Alleppey backwaters. You may unwind while taking in the breathtaking scenery of the rice fields, coconut-fringed seas, and gorgeous views of the man-made islands. The luxury-style service, comfy interiors, and delectable cuisine on a houseboat trip make it the best of both worlds.
The backwaters of Kerala are a vast, interconnected system of rivers, canals, and lakes that span more than 900 kilometers. On the banks of the bushes are a variety of towns and villages. Since the freshwater from the rivers and the seawater from the Arabian Sea converge here, they are unique. Barriers have been erected in numerous places to stop the mingling of freshwater and the ocean. The use of this freshwater for agriculture is then widespread. Crabs and turtles are only a few aquatic creatures that call these backwaters home.
Kerala houseboat excursions are not inexpensive. We wanted the romantic experience of traveling alone, but you can save money by taking a larger boat and sharing with others. It is expensive to take houseboats in Alleppey. You can find your ideal boat by browsing. Remember that some of the most luxurious houseboats with jacuzzis and round-the-clock air conditioning are also the worst for the environment. But no worries, you can now choose the perfect houseboat journey with Coco House Boats in Alleppey.
Choose the best houseboat services in Alleppey.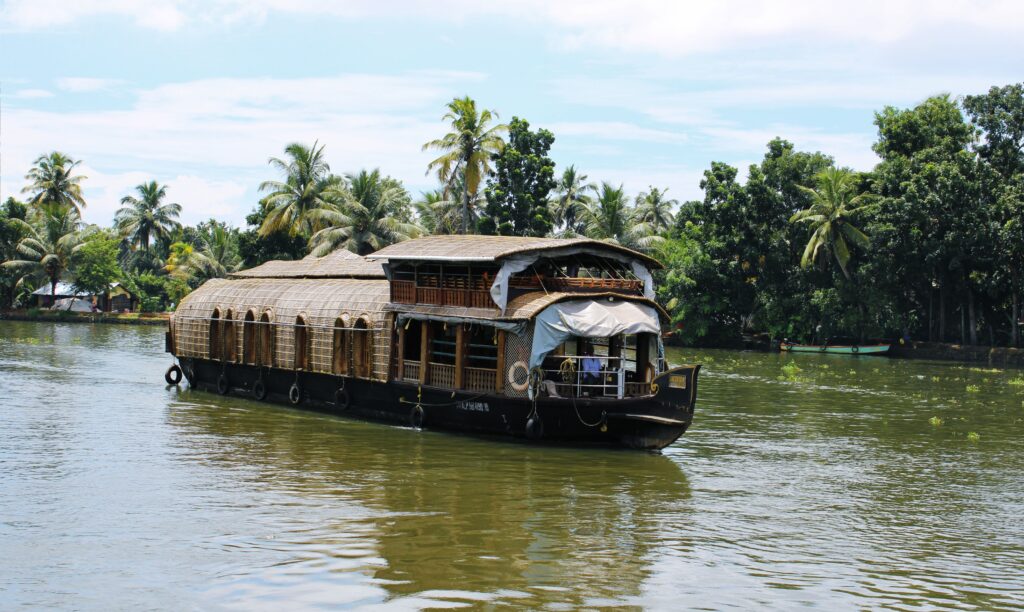 The majority of houseboats in Alappuzha are constructed from eco-friendly materials. The majority of them have bamboo- or thatch-made roofs. The bedrooms in the houseboats are entirely equipped and have balconies and adjoining bathrooms. The cook and two to four oarsmen comprise most of the crew. The tourism department of the Keralan government performs routine inspections of these boats to ensure your safety is not jeopardized and all houseboats have adequate safety precautions. Choose the houseboat with all of these amenities.
There are primarily three types of boats that can be rented:
Deluxe boats: One-bedroom boats, known as "Deluxe Boats," are too commonplace for you. We advise against choosing a deluxe houseboat because they often need more amenities like geysers and air conditioners, which are only available at night.
Premium Boats: Compared to conventional boats, these boats are significantly more practical and comfortable. They have a glass verandah and access to air conditioning every day. As most people cannot afford the exorbitant price of luxury boats, they are the most popular houseboats. Luxurious houseboats: These boats are much more abundant than the first two. They have 24hour air conditioning and numerous other amenities, including an observation deck, a television, a glass cabin, and more! These boats may be expensive, but they are unquestionably worth it! You can make whichever decision you feel would be best for you and your family! Don't hesitate; book your Coco houseboat in Alleppy now at fantastic prices!
Our crew has a lot of experience and is familiar with the surroundings and the backwaters. The chef has received training in traditional Keralan cooking. Breakfast, lunch, and dinner are all included in the price of the package. The culinary selections are first-rate and authentically Keralan. Choose the perfect houseboat in Alappuzha for delectable meals. Also, there are a variety of entertainment alternatives available on the boat. We have prepared the houseboat in Alappuzha for sharing with fishing gear and excellent music systems. The houseboat will travel via waterfront communities and islands through the backwaters. Also, you have ample freedom to select the activities you want to engage in. The bushes are popular for kayaking, bird watching, and fishing. By choosing a houseboat in Alleppey, you can participate in most activities. Because of the above factors, we can proudly declare that our houseboat is among the best houseboats in Alleppey.
Conclusion
Fresh wind and earthy scents are ideal feel-good ingredients for any day. Rainstorms can sometimes give off a warm, fuzzy vibe. A moonlit night is the perfect setting for stargazing. A lovely background soundtrack is created by the chirping of birds and the splashing of water. Houseboats in Alleppey are for people who enjoy nature, peace, and some uninterrupted me time because they guarantee much relaxation.
This vacation, we invite you to celebrate with Coco Houseboats in Kerala to celebrate with nature. There are decent food options on houseboats in Alleppey. The price includes all meals, mostly a fusion of North and South Indian dishes. Enjoy the food, enjoy nature, and have a pleasant vacation. We are here to provide all the required facilities for you at affordable rates. Be a part of us, and let us serve you with the most memorable days of your life close to nature. Be a part of Coco Houseboats in Alleppey this season!