Houseboats in Alleppey- Get the most satisfying houseboat rides in Alleppey
If you are travelling to Kerala then you might not want to miss Alleppey, Why?
simply because Alleppey is one of the most beautiful tourist destinations in Kerala. It is also a major tourist destination as it has several beaches, backwaters and a lot of other attractions. The major attraction of Alleppey is the backwaters which are very much popular among tourists and locals alike because they provide a very clean and pleasant atmosphere.
One of the most popular places to visit in Alleppey is Houseboating in Kallara River. This place offers you a unique experience where you can enjoy the beauty of nature by boating on Kallara river with a houseboat. The best time to visit this place is from October to May, this is because the temperature is optimum and much cooler. While during the summers you can find Alleppey hitting 35-40 C with ease. So unless you want to hit the waves on a hot atmosphere you better come down here during the winters.
Alleppey is home to more than 3000 freshwater lakes, with a number of them being resorts that serve water sports. There are also many other activities to do, such as houseboating and canoeing. Taking about the best activity you can do it Alleppey there is nothing that comes close to houseboating, they comes with luxury spaces that are affordable. Houseboating is best suited for families and small groups of friends, you get yourself a small crew of people, a wide variety of premium food options, everything from non-vegetarian varieties to custom luxury seafood varieties, they come with a clean and well-furnished bathroom. Trust us, we will try our best to make this your best vacation, contact us today for more details.
Types of Houseboats in Alleppey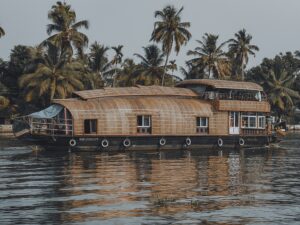 The God's own country will never let you down when it comes to options, Alleppey is no exception, there are essentially multiple types of houseboats available in Alleppey. They are mainly categorised on the basis of money you are willing to spend, don't worry there are more affordable options than ever. For instance will find houseboats of different size and shape with Air Conditioning, one deluxe bedroom to even fifteen deluxe bedrooms.
With Coco houseboats you will have a wide variety of options to choose from, our houseboats comes with a single deck to some with double decks, you might want to go with double decks as they have the best views. So if you are planning to take some pictures along with way then you might have to go with the double decks. Houseboats are generally categorised as deluxe houseboats, luxury houseboats, premium houseboats, special cruises and ultra-luxury houseboats. It's up to you to choose from these varieties, at coco houseboats you have to luxury to afford any of them without spending a fortune. So make your bookings soon.
Our houseboats are the perfect choice for families, it helps you to get away from the hassle of life and be close to nature. We want you to experience our elegant design and luxurious amenities that give you the peaceful vacation you deserve.
Kerala is known for its culture and the food takes it to the next level. Alleppey is gifted with wide varieties food, they have shaps that provide you with hardcore local food items, spicy and tasty to the very last bite. This is the same when it comes to houseboats as well. Coco houseboats have experienced crew of people who can create custom foods items for you.
You are welcomed with mouthwatering aromas from our kitchen, We have chiefs who prepares traditional cuisines for your family. The day begins with our special welcome drink which is either tender coconut juice or any fresh juice of your choice. We tend to keep them fresh so we bring your cravings onboard with us. For the breakfast you will find Idili, Appam with stew or egg curry, Poori Bhaji and even puttu and kadala curry. This will be accompanied with hot tea or coffee. For lunch you will have rice, avial, thoran, fish fry , sambhar, pickels, pappadam, chicken curry and other chicken dishes along with sea foods as well. You can also experience the local dish called karimeen polichathu, which is widely popular due to its taste. For dinner you get the options of chappthi, roti, paneer masala and desserts like fruit salad and ice creams.
If you're planning a trip to Kerala, be sure to add Alleppey houseboats to your bucket-list and while you're there, take advantage of the opportunity to try some of the delicious local dishes. From traditional Kerala cuisine to seafood specialties, everything you ever wanted. So what are you waiting for? Start planning your trip today with us. Contact us now.