The benefits of choosing a multi-shared houseboat for your Kerala trip
If you are planning a trip to Kerala and want to experience the best of what this beautiful destination offers, then considering opting for a multi-shared houseboat offers some distinct benefits. With its unique mix of cultures, Kerala offers an unforgettable journey. On top of that, staying in a multi-shared houseboat allows you to explore easily while saving time and money. In this blog post, we will discuss why choosing a multi shared house boat is the ideal accommodation choice during your Kerala trip and how it can enhance your overall travel experience.
Tips for planning a multi-shared houseboat trip in Kerala
One of the best things about opting for a multi-shared houseboat for your Kerala trip is that you can save a lot of money. Here are some tips to help you plan an affordable trip:
– First, choose a date when the rates are low. Houseboat prices in Kerala vary depending on the season. You can get cheaper rates during the off-season.
– Secondly, look for discounts and offers. Many websites offer great discounts on houseboat bookings. Keep an eye out for such deals and offers.
– Thirdly, think about the number of people accompanying you on the trip. A smaller group can always mean lower costs.
With these tips in mind, you can easily plan an affordable and memorable trip on a sharing houseboat in Alleppey!
The best times of year to visit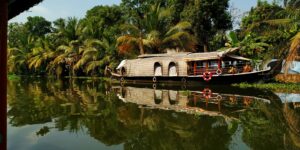 Kerala is a beautiful state in southern India. It is known for its tropical climate, stunning beaches, and backwaters. The best time to visit Kerala is between October and March. This is the cooler season, with temperatures ranging from 20-25 degrees Celsius. April and May are the hottest, with temperatures reaching up to 35 degrees Celsius. June to September is the monsoon season in Kerala, and it can be very wet. 
Things to pack when visiting Kerala
Assuming you're packing for a Kerala trip in India, here are some items you may want to include:
Toiletries and personal hygiene items

Sunscreen and insect repellent

Clothing that is comfortable and appropriate for the climate (think Cotton and linen in natural colors)

A shawl or scarf for covering your head and shoulders when necessary

Comfortable walking shoes

An umbrella or raincoat

A small first-aid kit

Your medications (if any)

A good book or two
A multi-shared houseboat is the perfect choice for anyone looking to experience a unique and magical trip in Kerala. It is not only cost-effective but also provides travelers with a unique opportunity to enjoy the stunning sights of Kerala's backwaters from the comfort of their own home away from home. Not only that, but you can also meet like-minded people who are just as passionate about exploring India as you are. So if you're planning an unforgettable trip to Kerala, consider renting out one of these special vessels – you won't regret it!